The Mother Machine
In this page, you can find a complete blueprint and user's guide for the mother machine, a simple microfluidic continuous culture device developed in our lab. Already in the 1950s, the Copenhagen School of Bacterial Growth Physiology rigorously and quantitatively demonstrated the importance of the balanced-growth conditions in, among others, obtaining reproducible results. There is now a renewed interest in growth, especially by researchers coming from quantitative sciences, and our hope is that researchers in the field use the mother machine or other devices that ensure steady-state growth conditions in their experiments.
There are several advantages for using devices like the mother machine. (1) balanced-growth conditions are ensured (2) one can change/control the buffer conditions (3) high-throughput (we typically collect tens of millions of data points) (4) single-cell level observations (5) long-term observations (hundreds of generations) (6) compatible with your favorite optics/microscopy.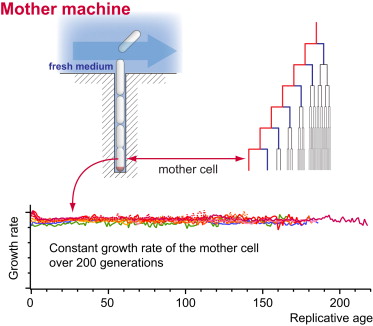 Another reason for publishing the guide on the web is that we have seen many students and post-docs reinventing the wheels, especially when they just start to learn new things, because important details are not included in the literature. Have fun!
The reference can be found here and on our publication section. Files are here:
2nd-Generation Mother Machine
We have invented our second-generation mother machines: multiplex mother machine (with sixteen main trenches) and duplex mother machine (with two main trenches). This allows us to run multiple mother machine experiments together.
AutoCAD (.dwg format) version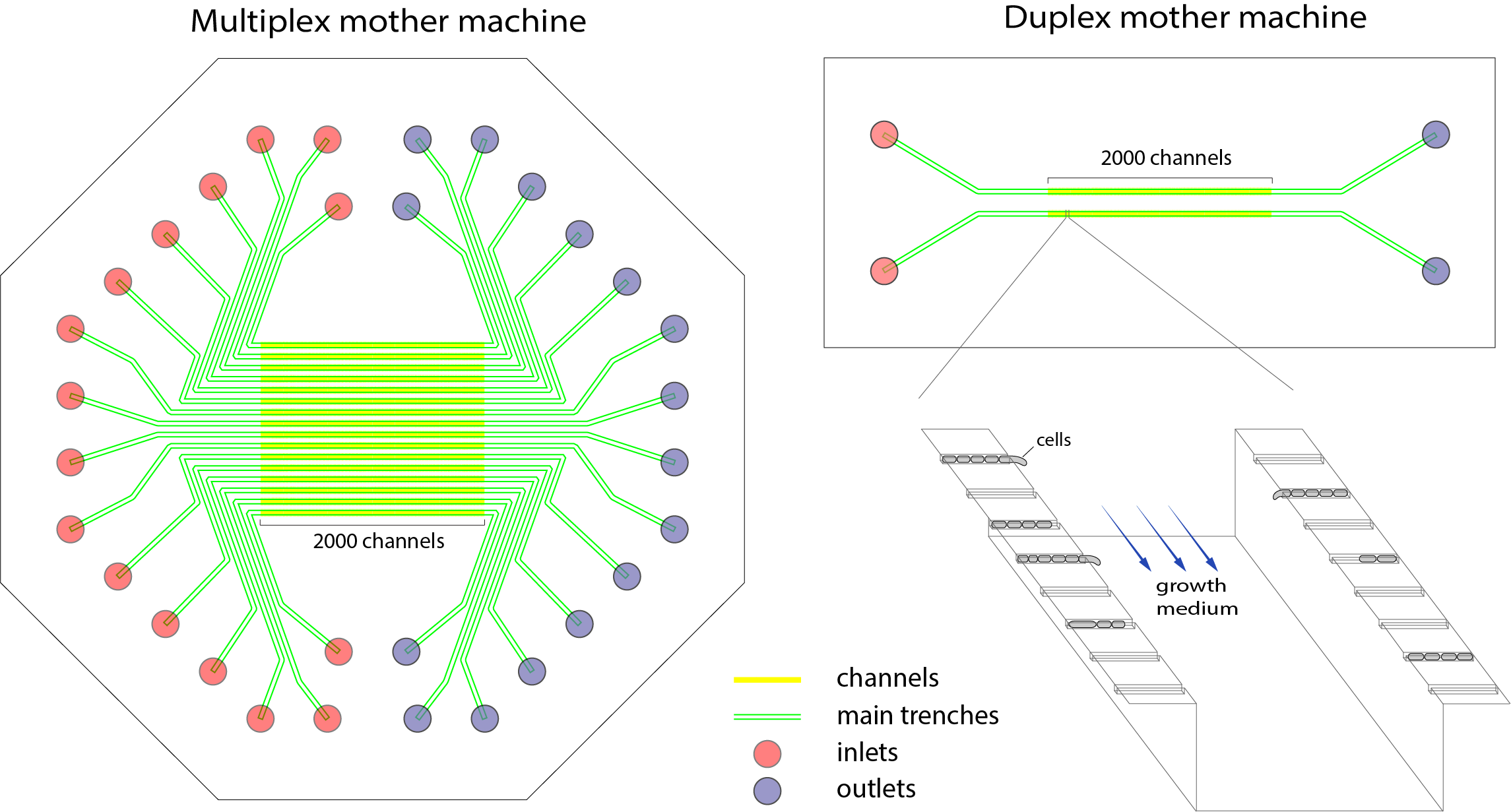 See Also:
Cell-size control and homeostasis in bacteria
S. Taheri-Araghi, S. Bradde, J. T. Sauls, N. S. Hill, P. A. Levin, J. Paulsson, M. Vergassola, and S. Jun
Current Biology 25(3), 385–391, 2015
[online] [PDF+extended SI] [Google Scholar] [news coverage]
Cell-size maintenance: universal strategy revealed
S. Jun & S. Taheri-Araghi
Trends in Microbiology 23(1), 4–6, 2015
[online] [PDF] [Google Scholar]